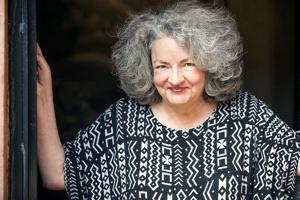 I guess it's a little cliché: A kid from a small town goes to college, feels a bit lost, has a professor who's out of the box and cool and warm, encourages the aforementioned kid to see life and the world from a new perspective, and the kid cherishes the life lessons forever.
I suppose the reason I'm such a sucker for that cliché is because that cliché happened to me. I attended Ball State University in Muncie, IN from 1989-1990
(Yep. Just a year)
and my theater professor Beth Turcotte
(then Beth Vanderwilt for those keeping score at home)
changed my life. As you listen to this conversation and hear Beth's passion not just for theater but for
people
, you'll get an idea how those around her can't help but catch that same passion.
Beth is alive. Everything she does is done with passion and vigor. Life is for living, doggonit. And with the way Beth lives her life, people around her become better for it. She's found a way to live her life that ends up enriching others and that's a lesson you don't have to be a theater major to embrace.
CLICK HERE to check out the Foot in the Door companion store, with links to all of the music and media mentioned in this episode.